$$$
{{ $t($store.state.user.experience_value_in_dollars) }}
Senior
{{ $t($store.state.user.experience_search_name) }}
Fullstack Developer
Colin Wang ,
Atlanta, GA, United States
Other titles
Senior Backend Developer | Advisor
Mobile Application Developer
Senior Software Developer
Skills
ReactJs
Node.js
React Native
Express.js
Django
+ 24 more
I'm offering
Experienced Mobile & Web Developer with a demonstrated history of working in the internet industry.
Strong entrepreneurship professional, full-stack JavaScript developer with over seven years of professional experience.
Mastered computer science at an elite university in the Netherlands but then jumped into a software development opportunity.
Demonstrated great performance in mobile and web development by resolving technical blockers, building large-scale backends using
http://*******.**
, web apps using React, and React Native mobile apps.
Markets
United States
Canada
United Kingdom
Lithuania (Remote only)
Rest of Euro area
Denmark
Norway
Sweden
Finland
Links for more
Once you have created a company account and a job, you can access the profiles links.
Industries
IT
Web services
SaaS
Finance & economy
Available
Typically available right away
My experience
Senior Backend Developer | Advisor
PicSetter
.
PicSetter is a mobile app for travellers.
I have made a valuable contribution to the project by applying the modern technologies and development exprience.
A fast and reliable CI/CD pipeline, responsive cloud solutions and many more!

Skills:
- Node.js
- .NET
- ASP .NET
- AWS - EC2, Elastic Beanstalk, S3, Route53, Load Balancer, Lambda
- React.js
- Vue.js
- MySQL

Tools:
- Squarespace
- Webflow
- MySQL Workbench
- CircleCI
Node, Ci / CD, Many more, App, Responsive, Development, Lambda, Developer, Net, Webflow, Mysql, Vue, Squarespace, Cloud, ASP, Vue.js, AWS, React, Backend, Node.js
Freelance Developer | Private Projects
unknown
.
I built various mobile and web apps for private clients:

- Xamarin/.NET Framework/.NET Core
- React
- Angular
- Vue
- React Native
- Ionic
- Node.js
- Java/Kotlin
- Objective C/Swift
- BLE/IOT
Vue, Framework, Native, Net core, Web, Apps, Developer, Net, Ionic, Node, Java, Iot, Xamarin, Kotlin, C, React Native, Swift, Angular, React, Node.js
Mobile Application Developer
TrustCor Systems
.
TrustCor's vision is to provide state-of-the-art, simple to use, privacy enhancing products and services for businesses and individuals. Using our privacy and security suite, certificate authority, global
infrastructure, geo-jurisdiction advantage, and extensive expertise, will protect your digital footprint.

I built an E2E messaging app(iOS, Android) with React Native and made some contributions to the backend development with Python in an agile development environment.

Skills:
- React.js
- React Native
- Java/Kotlin
Kotlin, Backend, Native, App, Development, Infrastructure, Developer, Mobile Application, Security, SoMe, Python, Agile development, Agile, React Native, IOS, Android, React, Backend, Java
My education
2011 - 2015
Amsterdam University of Applied Sciences
Bachelors, Computer Science
---
---
Contact Colin Wang
Worksome removes the expensive intermediaries and gives you direct contact with relevant talent.
Create a login and get the opportunity to write to Colin directly in Worksome.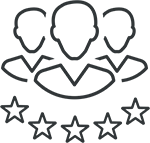 36400+ qualified freelancers
are ready to help you
Tell us what you need help with
and get specific bids from skilled talent in Denmark