$$$
{{ $t($store.state.user.experience_value_in_dollars) }}
Senior
{{ $t($store.state.user.experience_search_name) }}
Senior Laravel Developer
Mark Topper Diderichsen ,
Regstrup, Denmark
Other titles
Senior Software Developer
Software udvikler
Software ingeniør
Softwareingeniør
Softwarekonsulent
+ 15 more
I'm offering
Strong-minded, full-stack web developer with a passion for performance and scalability and with a flair for building elegant solutions for advanced platforms.

Helped with building the online supermarket (Rema1000's) entire solution for shared economy between its users and shoppers called ViGo.


I passed the screening interviews and coding tests for Toptal, and can now call me a top 3% software developer according to them.

Due to the many years I have contributed to open source projects in my spare time, I have become a bit known in the Laravel community.

Specially for my early engagement in the Laravel admin panel called Laravel Voyager.

I've had the opportunity to work on projects for many different companies among which Red Barnet Ungdom, Essencius A/S, FysioDanmark, HP Danmark, Envato, ALSO, Danske Hospitals Klovne, Pangaea Network Limited, Worksome, FuseTea, Coca Cola, Rema1000, Puzzible, Copehagen Airport, Bærnholdt and many more.
Markets
United States (Remote only)
Canada (Remote only)
United Kingdom (Remote only)
Lithuania (Remote only)
Rest of Euro area (Remote only)
Denmark (Remote only)
Norway (Remote only)
Sweden (Remote only)
Finland (Remote only)
Links for more
Once you have created a company account and a job, you can access the profiles links.
Industries
SaaS
Computer Software & Apps
World Wide Web
Available
Available from 01/02/2022
My experience
Software Developer
Novasa Interactive ApS
.
Arbejder blandt andet på Københavns Lufthavn og Rema1000 med Vigo.
Laravel, Linux, Ubuntu, Git, Web Development, API, REST API, Mysql, Php, Javascript, Jquery, Web development, Software development, Software development, Backend, Sql
---
Contact Mark Topper Diderichsen
Worksome removes the expensive intermediaries and gives you direct contact with relevant talent.
Create a login and get the opportunity to write to Mark directly in Worksome.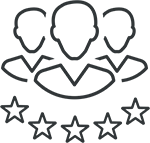 37000+ qualified freelancers
are ready to help you
Tell us what you need help with
and get specific bids from skilled talent in Denmark