$$$
{{ $t($store.state.user.experience_value_in_dollars) }}
Senior
{{ $t($store.state.user.experience_search_name) }}
Social Media Marketing Consultant, Digital Marketing Strategy & Training
Sarah M Andersen ,
Hvidovre, Denmark
Other titles
Kommunikations- og marketingmedarbejder
Marketingansvarlig
Marketingkonsulent
Coach
Underviser
+ 3 more
Skills
Organisationskultur
Digital Marketing
Social Media Marketing
Manager Development and Coaching
Organizational and managerial development
+ 25 more
I'm offering
Jeg specialiserer mig indenfor kurser og træning i Facebook Marketing og Strategisk Optimering af Facebook kampagner samt tilstedeværelse på Sociale Medier.

Derudover hjælper jeg virksomheder med at udvikle eller optimere deres strategier ved hjælp af coaching forløb, både in-house og online. Jeg har hjulpet virksomheder indenfor helse, e-commerce og velgørenhed med at gro deres ROI, udarbejdet kampagne strategier og har sørget for at vedligeholde stabile resultater ved hjælp af kontinuerlig optimering.

Jeg kan afsløre at jeg kender en del til hemmelighederne bag god annoncering og hvordan man får det bedste ud af sine kampagner via Facebook annoncering - og jeg er ganske villig til at dele min erfaring.

Jeg tilbyder, blandt andet:
- Kurser på alle niveauer (beginner, advanced & Expert)
- Strategisk sparring & rådgivning
- End-to-End styring af Facebook kampagner

Tag endelig fat i mig for en uforpligtende snak over en kaffe, hvis du vil høre mere om hvad jeg og/eller Adtivity kan tilbyde!

De bedste hilsner
Sarah Andersen
Markets
United States
United Kingdom
Denmark
Norway
Sweden
Links for more
Once you have created a company account and a job, you can access the profiles links.
Available
Typically available right away
My education
2010 - 2013
Copenhagen Business School - Handelshøjskolen
Bachelor, Engelsk og Organisations Kommunikation
Særlige fokusområder:

- Organizational Communication
- Intercultural Communication
- Project Management
- Strategic Management
- Effective Oral Communication and Presentation
- Business & Legal English
- Text- Translation & production
- Corporate Image & Branding
---
---
Sarah's reviews
Facebook marketing specialist wanted to help drive customers to our website.
Only one word needed "Fantastic"
---
Private job post
Sarah er perfektionist i sit arbejde. Hun får lavet de opgaver, som er aftalt og til tiden og kommer med masser af indspark og god karma.
På ganske kort tid, er hun blevet en super ambassadør for vores virksomhed, på de sociale medier.

Arne Grøntvedt
Hjerteassistance ApS
---
Contact Sarah M Andersen
Worksome removes the expensive intermediaries and gives you direct contact with relevant talent.
Create a login and get the opportunity to write to Sarah directly in Worksome.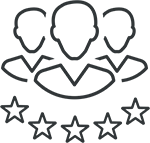 37000+ qualified freelancers
are ready to help you
Tell us what you need help with
and get specific bids from skilled talent in Denmark