$$$
{{$t($store.state.user.experience_value_in_dollars)}}
Senior
{{$t($store.state.user.experience_search_name)}}
Senior Project Manager/IT Manager
Shaun Bethell ,
Shipley, United Kingdom
Other titles
Project Manager
Development & Delivery Team Lead
Senior Software Developer
it manager
senior software developer
Skills
Project Management
IT technical project management
Senior project manager
Project planning
Interim project management
+ 11 more
Industries
Insurance
Financial services
Health care
Ready for
Smaller project
Larger project
Ongoing relation / part-time
Full time contractor

Available
Typically available right away
My experience
Project Manager
AmTrust Europe
.
Responsible for the hiring and line management of both the Business Analysis and Database Development workstreams as well as resource managing the eighteen strong Software Development team. This involved balancing and prioritising resource across tasks for both projects and software support. Other key responsibilities were: Sole ownership of the project portfolio and management of help desk tickets; continual implementation of best working practice and process improvement across the department; ensuring internal and external audit criteria were met and regulatory requirements were implemented and adhered to.
Software Delivery: Medical Claims System
Responsible for delivering a new claims system to centralise the creation, storage and management of live claims across a number of locations including the United States to meet auditory requirements

Accountable for managing workstreams which included directing work for project managers, technical architects, business analysts and testers

Provided thought leadership for the implementation of standardised data sets to enable effective transfers of information via new technologies across multiple platforms, including the re-engineering of business processes

Regular engagement with senior stakeholders including CEO's of the European offices to provide project and progress updates

Extensive engagement with the internal business functions to ensure that the new system adhered to all the latest financial, auditory and legal requirements including GDPR


European Central Data Warehouse:
Responsible for streamlining various data points for consolidation in a new fit for purpose data warehouse to replace the existing legacy warehouse including data migration

Led on the delivery of a feasibility study which was presented to CEO of AmTrust Europe and other executives detailing the preferred approach for implementing this project which was subsequently endorsed

Utilised my comprehensive knowledge and experience of system and software design to provide high level technical guidance to the team

Strong collaboration with other parts of the business to ensure that the timelines and deliverables were adhered to based on the matrix resource model structure in place

Managed a wide variety of differing resources including resource from infrastructure and dev ops across various geographical locations including Europe and the United States

Ensured that all dependencies, risks and issues were identified, maintained and resolved in a timely manner. These included dependencies on other projects and internal and external auditory risk requirements. Building these into the project plan allowed the ability to establish strong engagement across various business functions to ensure that the project stayed on time and to budget.


Infrastructure: Environments Project
Responsible for the transformation of the current environments used by the business; including the procurement of new hardware to support business systems. Responsible for the implementing a new strategy for environments including separation of environments used for both live and test systems

Created a detailed schema of all systems and databases that interfaced with the various environments and the new proposed structure going forward which was supported and given senior management approval

Created a number of work streams to ensure that the project could be effectively managed as the project affected thirty two systems which included data warehouses, sun systems, third party systems and SQL and Oracle databases. Initiated data cleansing as part of this project to ensure that all existing environments were as efficient as possible

• Implemented new robust security standards and procedures to ensure that access and utilisation was streamlined
Pulled together an advisory group to ensure that the various business functions were aware of the level of change required and for any cross function decision making
Engineering, LED, Manager, Processes, Audit, Software, Storage, Development, Regulatory, Ceo, Hardware, Infrastructure, Support, Transformation, Implementation, Software design, Design, Test, Security, GDpr, Management, Leadership, Database, Data Warehouse, Procurement, Software development, Audit, Business Analysis, Budget, Oracle, Project Manager, Sql
Senior Software Developer
Figure Out Ltd
.
Responsibilities:
Responsible for the design and development of the primary Point Of Sale application for a relatively new and emergent organisation. This involved managing feature releases each month as well as major quarterly releases, in order to meet client expectations in a very competitive market place.

Close working with the company directors and senior managers; responsible for gathering and translating requirements for the development team. Responsible for planning and prioritising requirements into achievable releases.

Other responsibilities included database design and development, database optimisation, administration and code validation for the development team.
Design, Administration, Database, Optimization, Database design, Developer, Development, Software, Organization, Feature, Planning
Development & Delivery Team Lead
unknown
.
Responsibilities:
Part of the principal development and delivery team responsible for reducing system downtime of complex upgrades to secondary health care trusts across the North East of England, in order to meet SLA's. Successfully led on and several projects designed to improve cost and quality to NHS Secondary Care trusts.

Working closely with members of the Release Management team, in order to successfully manage critical elements of the go-live and out of hours upgrades, for the Secondary Care trust across the North East of England

Responsible for a team of database administrators and developers to provide technical expertise and support for several development teams across the National Programme for IT programme including database design, development and maintenance and development of data migration solutions. The team was also responsible for setting the SQL coding standards and practices for the program as well as the BAU database administration tasks.
Design, Sql, Administration, Database, Database administration, Management, Database design, It, Support, Health, Development, Go, LED
My education
Leeds Metropolitan University
BSc, Software Engineering
---
Leeds College of Technology
BTEC, Computer Studies
---
---
Shauns reviews
Shaun has not received any reviews on Worksome.

Contact Shaun Bethell
Worksome removes the expensive intermediaries and gives you direct contact with relevant talents.
Create a login and get the opportunity to write to Shaun directly in Worksome.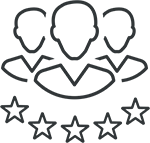 31200+ qualified freelancers
are ready to help you
Tell us what you need help with
and get specific bids from skilled freelancers in Denmark