$$
{{$t($store.state.user.experience_value_in_dollars)}}
Junior
{{$t($store.state.user.experience_search_name)}}
Tallulah Stringer ,
, United States
Skills
Reliable
Strategic planning and efficiency
Attention to details
Initiative
Responsible
+ 3 more
My experience
Temporary Sales Associate, Gap
unknown
.
----Responsibilities included:
• Restocking shelves
• Assisting customers
• General store cleaning

I continue to maintain various babysitting positions where I am in sole care of up to four children ranging from ages four to eleven.
Sales, UP
Temporary Kitchen Staff
The Street Inn
.
- Responsibilities included:
• Prepping vegetables
• Washing and drying up
• Setting tables
• Serving tables
• Cleaning the kitchen after closing
UP
My education
2018 - ?
Strode College
Secondary, Textiles
---
Strode College
Secondary, Photography and Maths
---
2013 - 2018
Crispin School
Secondary, Photography
---
---
Tallulahs reviews
Tallulah has not received any reviews on Worksome.

Contact Tallulah Stringer
Worksome removes the expensive intermediaries and gives you direct contact with relevant talents.
Create a login and get the opportunity to write to Tallulah directly in Worksome.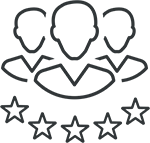 31200+ qualified freelancers
are ready to help you
Tell us what you need help with
and get specific bids from skilled freelancers in Denmark