$$
{{$t($store.state.user.experience_value_in_dollars)}}
Junior
{{$t($store.state.user.experience_search_name)}}
Modern Languages Expert in Translation and Content Creation
Heather Chamouret ,
Liverpool, United Kingdom
Other titles
Teacher of Spanish and French
English Tutor
English Teacher
Skills
Teaching
Linguistic
Excel
Microsoft powerpoint
Microsoft Word
+ 13 more
Ready for
Smaller project
Larger project
Ongoing relation / part-time

Available
Typically available right away
My experience
Teacher of Spanish and French
Lymm High School
.
I am responsible for the linguistic education of pupils aged 11-16 years. I teach French and Spanish in a school with over 2,000 students on the roll.
English Tutor
Prenton High School for Girls
.
I taught 1:1 classes with a student learning English as a foreign language. I helped her in her studies for English Language GCSE with lessons on grammar, exam strategies, phonics and speaking.
English Teacher
My English School
.
I taught children ages 7-11 in a classroom environment and held responsibility for planning and delivering lessons, including creating my own resources.
Planning
My education
University of Liverpool
Bachelors, Modern Languages
---
University of Havana
N/a, Cuban Cinema Studies and Catalan
---
2008 - 2015
Rosebery School for Girls
Secondary, English, Maths and Science
---
---
Heathers reviews
Heather has not received any reviews on Worksome.

Contact Heather Chamouret
Worksome removes the expensive intermediaries and gives you direct contact with relevant talents.
Create a login and get the opportunity to write to Heather directly in Worksome.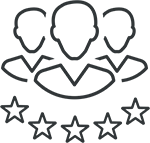 31200+ qualified freelancers
are ready to help you
Tell us what you need help with
and get specific bids from skilled freelancers in Denmark