$$$
{{$t($store.state.user.experience_value_in_dollars)}}
Senior
{{$t($store.state.user.experience_search_name)}}
Senior Project Manager
Jyotsna Hofmann ,
London, United Kingdom
Other titles
Senior Project Manager
Hybrid Project Manager/Account manager & Digital Project Manager
Skills
Project Manager
Doubleclick
Intranet
Back end
Html
+ 10 more
Ready for
Smaller project
Larger project
Ongoing relation / part-time
Full time contractor

Available
Typically available right away
My experience
Freelance Global Campaign Project Manager
unknown
.
As a project lead, I helped the Global Consumer and Global Tax & Legal industry market leaders launch their new
digital & social campaigns e.g.Linkedin & Twitter and launch revised brand identity. We produced a range of digital
content & social content, series of short films, thought leadership pieces, brand identity toolkits, key visuals,
concepts for Deloitte member firms and internal clients at a global level. More recently, we refreshed Deloitte's
COVID messaging & positioning live here across all communications. I also managed all legal and brand reviews.
Key achievements:
● Managed application build for personalised internal comms project with development team xLAbs at Deloitte Digital. Sourced the in-house technology team and prototype for this project which would have
otherwise been shelved. Saved the Global Tax & Legal team an annual license fee that could have cost
upto $100K and managed production.
● Produced assets for email broadcasts, Zoom meetings, virtual Townhall announcements, webinars,
international video conferences, thought leadership discussions, presentations.
● Managed all global website and content updates, repositories, intranet updates, email comms.
● Implemented a new brand look and feel & films for the Consumer industry currently live here. There was
an increase in uptake of brand identity and brand adoption also also generated paid business worth $20K
from Deloitte Singapore member firm, a referral to Deloitte S Korea and additional enquiries.
● Streamlined the Global Consumer industry tracking, analytics & reporting process. As a result, campaign
performance was captured more accurately, with more conclusive results on engagement, responses rates
on social media, enabling teams to create tailor-made content to gain traction in the right Deloitte circles.
● Pushed work through the studio and delivered campaigns on time with limited resources.
Content, Manager, Social, Production, Campaign, International, Development, Brand identity, Twitter, Social Media, Website, Technology, Analytics, Linkedin, Leadership, Video, Project Manager
Freelance Senior Project Manager/Project Director
Barclays, IQ-EQ and Manufacturing Technology Corporation
.
In this role I helped launch Graduate Recruitment campaigns across three accounts - Barclays, IQ-EQ and Manufacturing Technology Corporation(MTC) - via digital, social and some print. I managed the rebrand project for IQ-EQ in particular live here. I also took on any overflow projects, supported a producer role and BAU briefs.

Key achievements:

● Managed production of digital & social touchpoints across all clients for the experiential campaigns.
● Ensured Barclays BAU digital projects progressed as normal without any disruptions when covering annual
leave of a project director despite I was advised of a lot of chaos in the account at that time.
● Helped a very nervous client at IQ-EQ launch their first rebranded touchpoint on time into the public
domain after several major last minute delays and changes and compiled their first Graduate toolkit.
● Organised and sent an entire creative team and a crew to international photoshoots based in Philippines
& India besides organising some other local shoots. I prevented a potential disaster, by making sure the unsuspecting team had correct visas before travel.
● Planned out and put in order all aspects of a complex launch campaign, project timelines, finances, digital
& film production elements, resources, third party agreements etc. before moving on.
Project Manager, Print, SoMe, Producer, Movie, Recruitment, Technology, International, Campaign, Production, Social, Manager
Senior Project Manager
unknown
.
At Spark44, I managed the creative process, concept, ideation and complete launch of high profile national
campaigns such as Wimbledon, Goodwood Festival of Speed, Launch of Discovery Sport for client account Jaguar & Land Rover across 360 degree media with focus on social and digital platforms. I worked on the initial rebrand for
Tetley, a newly acquired account within the agency. I also managed asset creation projects such as #Hibernot,
sales/tactical campaigns such as Approved Used Vehicle sales events, content with government/MOT updates.

Key achievements:

● Completely owned the social and digital campaigns working across a fleet of account teams, social teams,
clients and suppliers in a very fast growing agency going through major internal consolidation.
● Managed creative process and sourced key contact and influencer list for #Hibernot project link here.
● Managed to source more than 40+ Batak game machines when at first there were only 4 available initially
in the UK for Batak Challenge Wimbledon Campaign 2017 link here.
Project Manager, Sales, Sport, Content, Festival, Campaign, Social, Manager
Hybrid Project Manager/Account manager & Digital Project Manager
Here I
.
got experience of working on a wide range of clients and
projects.At
BTasa hybrid PM, Manager, I learnt to handle 13-15 key stakeholders in a big client team until 2013. I was deployed to SC Johnson account to help on
high volume projects from 2013 to 2015. I eventually moved to the digital production team where I expanded my
repertoire to gain more technical and digital focused skills working on a variety of projects & clients e.g. Expedia,
Philips, IBM, Amex, Unilever (Comfort, Dove), Cabinet Office, Public Health England, QANTAS, British Airways.
Project Manager, Account Manager, Health, Office, Production, Hybrid, Manager
My education
2007 - 2008
University of Greenwich
N/a, Business
---
---
Jyotsnas reviews
Jyotsna has not received any reviews on Worksome.

Contact Jyotsna Hofmann
Worksome removes the expensive intermediaries and gives you direct contact with relevant talents.
Create a login and get the opportunity to write to Jyotsna directly in Worksome.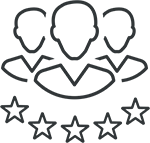 31200+ qualified freelancers
are ready to help you
Tell us what you need help with
and get specific bids from skilled freelancers in Denmark