$$$$
{{ $t($store.state.user.experience_value_in_dollars) }}
Expert
{{ $t($store.state.user.experience_search_name) }}
Omni-Creative Services
Justin Daltrey ,
Shepperton, United Kingdom
Other titles
Head of Creative
Marketing Graphic Designer
Graphic Artist/Visualiser
Illustrator Supremo
Skills
Advertising
Creative design
Branding
Acrobat
Photoshop
+ 9 more
I'm offering
I have worked across all aspects of the Creative sphere for over 25 years.

A gradute of the University of Westminster with a BA Hons in Graphic Information Design, I freelanced in London then worked at United News Group running one of their local design studios and then for Wickes Building Supplies in their marketing and creative department as part of their Head Office Point of Sale and specialist promotion team.

I then worked for many years at GEM Associates (now HME limited) a leading pharmaceutical media company based in Surrey heading up their small creative department servicing the production and creative needs of Local and Global pharmaceutical clients. Working with in house design and sales teams for clients such as Astra Zeneca, GSK, Novartis & Takeda on diverse projects from repurposing print ad campaigns through medical congress and events exhibition graphics to App interfaces. Alongside this I maintained their brand and promotion campaigns via social media channels and Mailchimp, assiting with presentations newsletters and all asects of branding for HME and their other businesses.

I have worked with a large variety of clients over the years from small independents, national and local charities to large multi-nationals consistently providing quality, cost effective creative often within tight deadlines and to a range of budgetary needs.
Markets
United States (Remote only)
United Kingdom
Links for more
Once you have created a company account and a job, you can access the profiles links.
Industries
Advertising & Marketing
Pharmaceutical
Publishing
Media
Ready for
Smaller project
Larger project
Ongoing relation / part-time
Full time contractor

Available
Typically available right away
My experience
Twelve22.design OmniCreative
Twelve22.design
.
Personal Creative Projects
Wix, Online, Keynote, Design, Chemistry, Artwork, Print, Photography, Mailchimp, Branding, Adobe Photoshop, Adobe Illustrator, Adobe Indesign, Logo Design, Graphic design, Office 365, Social media content, Content creation
Head of Creative
Healthcare Media Europe
.
Head of Creative
Design, Digital design, Graphic design, Visual identity, Logo Design, Adobe Photoshop, Adobe Illustrator, Adobe Indesign, Office 365, Social media content, Photo editing, Image sourcing, Mailchimp, Wix, Social Media
Production Manager
MagicScene UK
.
Creative artworking and deisgn for vehicle and building wrapping
Design, Production, Manager, Content creation, Photoshop image processing
Marketing Point of Sale Designer
Wickes Building Supplies
.
Mid-weight creative designer working at Head Office with the Point of Sale, Marketing and Promotions teams
Marketing, Design, Point-of-sale, Creative, Creative artworking, Adobe Illustrator, Adobe Photoshop, Logo Design, Layout, Digital design, Adobe Indesign, Quarkxpress
Graphic Artist/Visualiser
United News & Media Group
.
Artworking and creative content for newspaper publishing group, all creative from Property and Motors to external print and promotional items for local & national businesses.
Creative, Graphic design, Layout, Adobe Photoshop, Visual identity, Print design, Newsletters
Freelance Designer
Various
.
Design Junior working in small local advertising and creative agencies
Creative, Graphic design, Layout, Logo Design, Illustration, Visual identity, Branding, Marketing
My education
1989 - 1992
University of Westminster
BA Hons, Graphic Information Design
3 year Graphics and Creative Design course
---
1988 - 1989
Buckinghamshire College
Diploma, Foundation Art and Design
Multi-disciplinary Art and Creative Course
---
1986 - 1988
Haydon School
A Levels, Art & Design, Political Studies, Economics
---
1980 - 1986
Haydon School
O Levels, Art, History of Art, English Language, English Literature, Maths, Geography, Politics, Economics, Physics, Chemistry, German
---
---
Justin's reviews
Justin has not received any reviews on Worksome.

Contact Justin Daltrey
Worksome removes the expensive intermediaries and gives you direct contact with relevant talent.
Create a login and get the opportunity to write to Justin directly in Worksome.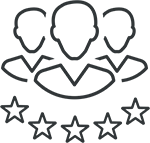 35900+ qualified freelancers
are ready to help you
Tell us what you need help with
and get specific bids from skilled talent in Denmark