$$
{{$t($store.state.user.experience_value_in_dollars)}}
Junior
{{$t($store.state.user.experience_search_name)}}
Production Technology, Design and Development
Mads Lindgren Jørgensen ,
Augustenborg, Denmark
Other titles
Produktionsteknolog (10 uger)
Maskinmester (9 måneder)
Skills
AUTO CAD
CAD
Prototypes
Prototype
Programmable logic controller
+ 14 more
I'm offering
Construction, assembly and installation of machinery, components and installations for industry; including production, transportation, warehousing and construction.
3D design and development of prototypes and functional models are my primary areas of work. I can manufacture functional prototypes and scaled-down models of machines and production facilities according to your wishes.
Links for more
Once you have created a company account and a job, you can access the profiles links.
Ready for
Smaller project
Larger project
Ongoing relation / part-time
Full time contractor

Available
Typically available within 14 days
My experience
JKS Vikar v/ Danfoss Cooling
Industriel Automation
.
Operatør/lodde-montage medarbejder & kvalitetsmedarbejder
Produktion af tryktransmittere, kompetencer i lagerfunktion og senere udtaget til kvalitetssikringsarbejde (Målesystems analyser) i henhold til IATF 16949.


KOMPETENCER
Teoretisk & praktisk Med erfaring indenfor

• Materialevalg- og forståelse • El-teknik • Konstruktion
• Fremstillingsprocesser • Motorlære • Virksomhedsteknik
• Sikkerhed og arbejdsmiljø (§26) • Spåntagning • Projektplanlægning
• Procesanalyse og automation • Svejsning • Prototypefremstilling
• Produktionsoptimering • Hydraulik og pneumatik • Teknisk dokumentation
• CAD-tegning & 3D print • PLC programmering • Lodning af elektriske komp.
Øvrigt • Taler og skriver engelsk • Kørekort kategori: A + B
• Generelt højt IT-brugerniveau på forretningsniveau • Udvidet førstehjælpskursus


CPR-nr.: 250692-2863
Work environment, Skills, Programming, Driver's license, Analyzes, Construction, Technique, Welding, Procesanalyse, Mounting, It, Production optimization, 3D, Programming, PLC, Technical documentation, 3d print, Production, Print, Documentation, CAD, Drawing, English, Automation, Project planning, Security
Produktionsteknolog (10 uger)
WattsUp Power A/S
.
Design og fremstilling (svejsning - TIG & MIG/MAG) af specialbestilte emner i jern, projektplanlægning,
koordinering af håndværkere og eksterne virksomheder, design og konstruktion af produkt-prototype til kundefremvisning. Mindre elinstallationer og opsætning af lyskilder.
Design, Project planning, Welding, Construction, Setup
Maskinmester (9 måneder)
Københavns Universitet, CSC
.
Vedligehold af bygninger og udendørs områder, overvågning af CTS-anlæg, fejlfinding og udbedring af fejl på elektriske installationer, koordinering af håndværkere og eksterne virksomheder, projektplanlægning
og fordeling af opgaver til interne medarbejdere.
Project planning, Engineer
My education
2013 - 2015
Maskinmesterskolen København
N/a, N/a
---
2010 - 2013
Esbjerg Statsskole
N/a, Spansk A og Samfundsfag B
---
---
Mads' reviews
Mads has not received any reviews on Worksome.

Contact Mads Lindgren Jørgensen
Worksome removes the expensive intermediaries and gives you direct contact with relevant talents.
Create a login and get the opportunity to write to Mads directly in Worksome.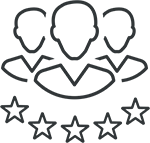 32200+ qualified freelancers
are ready to help you
Tell us what you need help with
and get specific bids from skilled freelancers in Denmark