$$$
{{$t($store.state.user.experience_value_in_dollars)}}
Senior
{{$t($store.state.user.experience_search_name)}}
Award-Winning Brand Marketer • 10+ Years B2B Marketing • Elevating the Brand Experience
Derek Oja ,
Cedar Rapids, United States
Skills
Digital Marketing
MArketing Strategy
Search Engine Optimization
Social Media Marketing
Graphic design
+ 11 more
Markets
United Kingdom (Remote only)
United States (Remote only)
Canada (Remote only)
Links for more
Once you have created a company account and a job, you can access the profiles links.
Industries
Financial services
Other manufacturing
Computer Hardware
Computer Software & Apps
Food & Beverages
+ 2 more
Ready for
Smaller project
Larger project
Ongoing relation / part-time
Full time contractor

Available
Typically available right away
My experience
Marketing Specialist
New Leader Manufacturing
.
Creative lead for NLM's global line of agricultural and road maintenance machinery. Responsible for creative strategy, design, implementation and analysis for all things marketing.
Marketing, Design, Creative Strategy, Implementation
Contractor / Freelancer
Self-Employed
.
Digital Marketing, Search engine optimization, Social Media Marketing, Graphic design, B2B Marketing, B2c marketing, Marketing Strategy, Hubspot, Email marketing
B2B Marketing Manager
TaxAct
.
As a team- and growth-oriented Marketing Manager, I was responsible for working alongside the Marketing and Sales teams to support revenue growth goals through client strategy, business development and B2B marketing activities. This includes planning, directing and executing marketing programs to increase the demand for products and services offered by TaxAct for professional and business customers. Generated 20% of company revenue while being allocated only 1% of total marketing budget.
Marketing, Business development, B2B, Budget, B2B Marketing, Marketing and sales, Sales, Growth, Support, Development, Planlægning, Direktør
Marketing Project Manager
MobileDemand
.
MobileDemand is in the highly-competitive, high-tech tablet industry. As a provider of rugged tablets to improve operational productivity and efficiency, Iowa-based MobileDemand has customers in 40+ countries in SMB and multi-national enterprises alike.

Was Responsible for planning, creation, deployment, and analysis of all inbound and outbound marketing. Prepared and presented ideas and deliverables on a regular basis, and researched market trends and industry data to help us stay on the cutting edge and grow the MobileDemand brand.
Marketing, Project Manager, Deployment, Planning, Smb, Manager
My education
2006 - 2010
Mount Mercy College
BBA, Marketing
---
---
Dereks reviews
Derek has not received any reviews on Worksome.

Contact Derek Oja
Worksome removes the expensive intermediaries and gives you direct contact with relevant talents.
Create a login and get the opportunity to write to Derek directly in Worksome.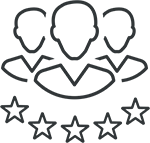 21100+ qualified freelancers
are ready to help you
Tell us what you need help with
and get specific bids from skilled freelancers in Denmark