$$
{{$t($store.state.user.experience_value_in_dollars)}}
Junior
{{$t($store.state.user.experience_search_name)}}
Gustav Falkengaard ,
Helsingør, Denmark
Other titles
Head of Brand Activation & Esports
sales assistant
Substitute teacher
Skills
Contracts
Business plans
Sales assistant
Brand activation
Event planning
+ 9 more
My experience
Intern
Fremad Amager Elite
.
Tasks/responsibilities:
• Making market - and industry analyzes
• Preparing and executing on SoMe-strategies
• Preparing sponsorship activation ideas
• Canvassing regarding network and meetings
• Concept development
Concept Development, SoMe, Network, Development, Sponsorship, Intern
Head of Brand Activation & Esports
unknown
.
Market- and industry analysis
Tasks/responsibilities:
Event planning
• Management of professional esports team in the eSuperliga
• Handling and production for FC Helsingør Esports SoMe
Project management
• Handling and production for FC Helsingør's SoMe
Innovation and concept development • Negotiation with players and agents for FC Helsingør Esport
• Formulation of player contracts for FC Helsingør Esport
Compilation of business plans • Sales of smaller sponsorships - canvassing
• Compilation of SoMe and activation strategies
Microsoft Office
• Campaign work in relation to merchandise sales
SPROG • Sales at the merchandise booth on match days
• Market and industry research
Danish • Preparation of articles on FC Helsingør Esport for
fchelsingor.dk
English • Concept development, including activation plans and execution of these
• Setting up sub elements at
fchelsingor.dk
through WordPress
Swedish
Results:
Norwegian • A third place in the Danish eSuperliga season 2 (16 teams),
despite lowest budget in the league
• A 50% increase in the number of followers on Instagram in 7
Spanish
months
• Prepared and executed campaign which generated an
German increaed gate revenue of 130% compared to the first match,
when playing game 2 out of 2 at Farum Park
• Negotiated and formulated contract for the worlds best FIFA-
player, Fatih Ustun, despite the tournament's lowest budget
• Prepared and executed succesfull campaign on less attractive
merchandise, which initially was to be discarded
Brand Activation, Formulation, UP, Contracts, Planning, Production, Campaign, Office, Development, Sprog, Less, Sales, Wordpress, Management, Event, SoMe, Instagram, Event planning, Innovation, Contracts, Research, Budget, Project Management, Concept Development
sales assistant
Imerco
.
Tasks:
• Assisting and advising customers
• Sales
Results:
• Being a part of the team, which closed the second highest
Christmas sales in the country in 2017
Sales
Substitute teacher
Nivå School
.
Tasks:
Substituting teachers in 0-5. grade
---
Gustavs reviews
Gustav has not received any reviews on Worksome.

Contact Gustav Falkengaard
Worksome removes the expensive intermediaries and gives you direct contact with relevant talents.
Create a login and get the opportunity to write to Gustav directly in Worksome.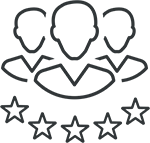 21100+ qualified freelancers
are ready to help you
Tell us what you need help with
and get specific bids from skilled freelancers in Denmark