$$$$
{{$t($store.state.user.experience_value_in_dollars)}}
Expert
{{$t($store.state.user.experience_search_name)}}
Technologist and Project Manager
James Ridgeway ,
Davenport, United States
Other titles
PMO Manager / Sr. Project Manager
Project Manager
Primary Roles; Project Mgmt. Altiris SME
Ms. OSD/MDT
Ms. OSD
Skills
Change management
Deployment
ITIL
Migrations
Subject matter expert
+ 34 more
Links for more
Once you have created a company account and a job, you can access the profiles links.
Ready for
Smaller project
Larger project
Ongoing relation / part-time
Full time contractor

Available
Typically available right away
My experience
PMO Analyst / Sr. PPM Consultant
Masonite
.
• Reviewed and defined a roadmap for all PMO functions (design); including project intake, project types and functional project variations, PPM rollups, reporting, addressing organizational re-design needs
• Addressed the change requirements for process integrations of Configuration Management, Change Management and Communications Management in reflection of the PMO and Resource Management functions
• Addressed various solution and tool implementations as a part of the Project Management Life Cycte (PMLC) process within the new PMO design
• Managed and implemented projects (including product changes and deployments) using following project solution tools and integrations; Microsoft Project Online/Server, Microsoft Project One, Microsoft Dynamics 365/CRM/PSA/AX, Microsoft SharePoint, Microsoft Teams, Azure Boards/DevOps, JIRA and ServiceNow
• Managed projects (and sub-projects), establishing a new organizational process structure and templates for future implementations and delivery
Management, PPM, Online, Server, Microsoft Teams, Configuration Management, ServiceNow, Analyst, Resource management, Dynamics 365, Design, Microsoft Project, PMO, SharePoint, DevOps, Azure, Jira, CRM, Project Management, Change management
PMO Manager / Sr. Project Manager
Olive + Goose
.
• Provide oversight in all PMO functions; including management of the project management team, service delivery teams resource management functions, organizational personnel forecasting as well as project tool implementation and project management process design
• Architected a guided implementation process through the various service delivery processes; including sales, project initiation, planning & scoping, SOW drafting, kickoff processes, project delivery, project closure and process and project improvement
• Managed and implemented the following Project Portfolio Management solutions; Microsoft Project Online/Server, Microsoft Dynamics 365/CRM/PSA, Microsoft SharePoint, Microsoft Teams and Master Data Management architectures (including Data Retention practices)
• Implemented and consulted on demand management functions, decisions and automation processes across various levels of the Olive + Goose internal organization and well as meeting requirements for customer delivery objectives
• Trained the company to utilize all PMO tools and processes
• Managed multiple projects for multiple sizes of organizations in the deployment, migration or management of multiple Microsoft products and solutions
• Delivered a very hands-on approach with the ability to lead the team regardless the size
• Established and maintained effective work relationships at all levels of individuals both internally and externally
Service, Service Delivery, Manager, Processes, Online, Planning, Server, Microsoft Teams, Retention, Process design, Resource management, Implementation, Project portfolio management, Master Data Management, Design, Dynamics 365, Sales, Management, Microsoft Project, PMO, Automation, Deployment, Data management, SharePoint, Forecasting, CRM, Project Manager, Project Management
EMM Consultant/Project Manager
Sabre Technologies, Southlake
.
• Scoped, managed and architected the Enterprise Mobile Management (EMM) solution project and all related business solution changes
• Implemented the BYOD solution using Microsoft Intune (EMS) and consulting on Microsoft cloud and required infrastructure solutions
• Developed and customized PMIS solution for managing the project using SharePoint
• Interacted with internal teams and vendors bringing a sound philosophy for architecting industry wide processes around BYOD
• Interacted and offered consulting around other program related projects, such as; Active Directory redesign, Azure A/D, SharePoint & Office 365 implementations
• Utilized hybrid processes of PMI's Agile/Scrum and Waterfall implementation methodologies in the management of this engagement
• Delivered project management details, business workflow as well as process change requirements within the ServiceNow ITSM and Business Intelligence (BI) solutions
Workflow, Manager, Processes, Hybrid, EMS, Enterprise, Redesign, BEE, Office, ServiceNow, Infrastructure, Implementation, Project Management, Management, Consulting, Cloud, Agile, SharePoint, Active Directory, Azure, Office 365, Business Intelligence, Project Manager, Scrum
My education
1989 - 1993
DeVry Institute
BSc, Electronic Engineering of Technology, N/a
---
---
James' reviews
James has not received any reviews on Worksome.

Contact James Ridgeway
Worksome removes the expensive intermediaries and gives you direct contact with relevant talents.
Create a login and get the opportunity to write to James directly in Worksome.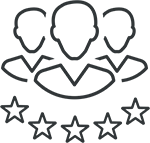 31200+ qualified freelancers
are ready to help you
Tell us what you need help with
and get specific bids from skilled freelancers in Denmark