$$$
{{ $t($store.state.user.experience_value_in_dollars) }}
Senior
{{ $t($store.state.user.experience_search_name) }}
Online konsulent med speciale i salg
Søren Rokkjer ,
Herlev, Denmark
Skills
Seo
Cro
Conversion Optimization
UX
Usability
+ 1 more
I'm offering
Strategisk salg- & UX-profil med ekspertkompetencer indenfor SEO og konverteringsoptimering.
• 10+ års erfaring inden for usability med fokus på kommerciel UX, konceptudvikling og digitalt salg - samt usabilitytest og optimering.
• Flere dokumenterbare resultater på digital salgsoptimering.
• Har arbejdet med intensivt med SEO optimering og har skabt flotte resultater.
• Har bred erfaring med online marketing, marketing automation, personalisering og projektstyring.
Jeg står bag
http://*******.**
og talt om emnet på konverteringsdagen17
Jeg driver også
http://*******.**
ved siden af min nuværende virke.
Links for more
Once you have created a company account and a job, you can access the profiles links.
Ready for
Larger project
Full time contractor

Available
Typically available three months ahead
My education
2005 - 2007
IT universitet
Cand.IT, Kommunikation og design
---
---
Søren's reviews
Søren has not received any reviews on Worksome.

Contact Søren Rokkjer
Worksome removes the expensive intermediaries and gives you direct contact with relevant talent.
Create a login and get the opportunity to write to Søren directly in Worksome.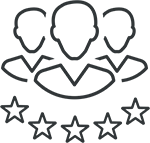 37300+ qualified freelancers
are ready to help you
Tell us what you need help with
and get specific bids from skilled talent in Denmark