$$$
{{ $t($store.state.user.experience_value_in_dollars) }}
Senior
{{ $t($store.state.user.experience_search_name) }}
Versatile SEO copywriter with extensive marketing and sales experience, specialising in website content, articles, blog posts and product descriptions
Annabelle Baugh ,
walsall, United Kingdom
Skills
Medical Writer
Copywriter
Psychology
Write articles
Product descriptions
+ 10 more
I'm offering
I gain great satisfaction, researching new topics and I have over 10 years of experience helping companies to improve their rankings and increase organic traffic, through Search Engine Optimization. I know how to write engaging and compelling content and utilize my extensive marketing experience, to write in a style appropriate to the branding.
In order to write information capable of conveying credibility, which is both original and easy to understand, I always do extensive research on the topic. Additionally, I also understand how to communicate to a variety of audiences utilising a focused voice, with an emphasis on achieving results in a target-driven environment.
As a freelancer, my interpersonal, communication and influencing skills are key to my ongoing success. I also enjoy keeping up to date with all things trending, editorial, and journalistic.
My experience in creating content is varied; I have researched data to produce white papers, protocol handbooks, articles, and website content for a wide range of clients, including Medical, Human Resources and Legal companies
CicaLux: Featured blog posts
http://********.***
Vocal
http://********.***
I am also a guest blogger for the:
Happy Healing Hut
http://********.***
Markets
United States (Remote only)
United Kingdom (Remote only)
Links for more
Once you have created a company account and a job, you can access the profiles links.
Industries
Medical Practice and Hospitals
Digital marketing
Sales
Consulting services
Available
Typically available right away
My experience
SEO content writer
Women In Digital Business
.
Natalia Nicholson - Director
https://www.womenindigitalbusiness.com/
Annabelle is a first-class content writer and strategist that has the ability to be a part of your team and integrate into your business at the same time as working on a stand-alone basis. Her ability to understand your audience and market place is what gives her the competitive edge in her industry along with her wealth of knowledge and experience. Annabelle is a valuable asset to our business for content writing and LinkedIn marketing and I look forward to our alliance growing.
Marketing, Seo, Writing, Linkedin, Content
SEO blog writer
Happy Healing Hut
.
Sarah Mancini - Director
https://www.thehappyhealinghut.com/blog
I would like to take the opportunity to recommend Annabelle for the insight and compassion which she accesses and delivers in representing our CIC blog.
Our mission at The Happy Healing Hut CIC is to promote Mental Health Awareness and Annabelle has supported us in this mission. Annabelle is a consummate professional in her approach and has an admirable integrity in each piece of work she produces for us.
We are delighted to have Annabelle as part of our Associate Team and would recommend her skills to other organisations without question.
Social media copywriting, Blogger
SEO content writer
The Guernsey Skin and Beauty Centre
.
Bronwen Dudley-Owen - Managing Director
https://guernseyskinandbeauty.com/
Annabelle has written content for me for landing pages, I found her to be very easy to talk to, she understood what I wanted and was very prompt in returning the completed works. I was very happy, as she saved me loads of time and I will definitely use her again.
Copywriting, Content marketing, Web content
SEO content writer
Now Doctor
.
Alexander Costello - Director
https://nowdoctor.co.uk/
Annabelle has been helping and writing material where I was struggling. Annabelle has made the whole process very easy and throughout has gone above and beyond. Annabelle's ability to juggle between the various business ventures has been 5 star. I have been sharing my current life's story with Annabelle and have received fantastic information which I will be sharing across my social media platforms. If anyone is looking for a copy writer I would highly recommend
Social Media Marketing, Content marketing, Digital communication, SEO writing, Web content
SEO blog writer
Mi Terms
.
Dror Levy - Director
https://www.miterms.com/mi-terms-blog/
Annabelle is easy to work with. She does substantial research to ensure all of the factual information is correct and uses appropriate keywords for SEO. She is also happy to deliver revisions to ensure she gets the final piece right.
SEO articles, Seo, Blogs, Content marketing, Copywriting, Write articles
SEO blog writer
Alvalux Medical
.
Justine Motmans - Manager
https://cicalux.us/blog/
Annabelle is a professional content writer. I managed to communicate with her perfectly. I will definitely work with her again.
Seo, Linkedin, Content, Blog, Manager
SEO content writer
Charlotte Weile
.
Charlotte Weile - Plastic Surgeon
https://www.nygart.dk/info/om-nygart/medarbejdere/kirurg-charlotte-weile/
Annabelle is easy to communicate with and responds quickly to emails. The content produced is of a high standard and includes appropriate keywords for SEO. Additionally, I am very impressed with Annabelle's willingness to quickly make amendments, to ensure the content is exactly what I wanted.
Seo, Linkedin, Content
SEO content writer
Inspired Conservatories
.
Gemma and Paul - Directors
https://www.inspiredconservatories.co.uk/
Annabelle did some copywriting work for our website. She was very efficient and also gave us some really good pointers on set up, layout and ideas, which when setting up a new business proved invaluable. Still to this day people comment on how lovely our website is compared to some of our competitors and Annabelle had a vital role to play in the decision making for us setting up the layout and content. I would highly recommend her to anyone thinking about getting a prompt turnaround and good quality content and advice.
Copywriting, Content marketing, Seo
SEO content writer
Doctorpreneurs
.
Ryan Kerstein, Plastic Surgeon - Director
https://doctorpreneurs.com/
Annabelle has offered a great service. She is very punctual with updates and revisions.
Copywriting, Write articles, Digital communication
SEO content writer
Client2Clinic
.
Rob Ellingham - Director
https://www.client2clinic.com/
I take great pleasure in recommending Annabelle for her content and copy writing service... Annabelle was precise with her research and delivery on time. The tone was well presented to my audience. I look forward to working with her again.
SEO writing
Proof reading and editing
BIRCHHR
.
Samantha Hulson, FCIP - Director
https://birch-hr.co.uk/
Annabelle delivered some proofreading for our HR company, with the added benefit of SEO support for several pieces of important content. Annabelle was efficient, professional and responsive.
Seo, SoMe, Content, Support, Responsive
SEO content writer
NA Consulting
.
Naeem Arif, CCXP, MBA, NA Consulting - Forbes Business Council https://www.naconsulting.co.uk/
Annabelle is great at putting together content that is effective and creative. I have recommended her to my own clients and been pleased with the outcomes
Content creation, Content marketing, Digital communication
SEO content writer
Golf Cubs Ltd
.
Thomas Hefford - Director
https://golfcubs.co.uk/
From initial conversation to finished article, Annabelle delivered a brilliant service. Her creative writing style was simple yet powerful, and with a business that targets a multitude of customers, i.e. kids, parents, professionals and academies, it was hard to strike that balance in tone. Annabelle produced an excellent piece of writing and we wouldn't hesitate to recommend her to others in the industry.
Copywriting, Content marketing, Digital communication
SEO content writer
Alpha Clinic - Plastic Surgery
.
Thanassi Athanassopoulos - Director
https://alphaclinic.co.uk/why-us/
Annabelle is great to work with, understood my needs and delivered on time. We will work together again
Copywriting, Write articles
SEO Copywriter
Bundle of Rays
.
Bradley Chesham - Founder / Director
https://bundleofrays.com/
It was a pleasure to work with Annabelle. She was always reliable and delivered above and beyond. She provided appropriate suggestions, outlines for future scope and had the mindset to apply herself to a wide variety of tasks. When able, we will re-engage her skills. I recommend her.
Blogging, Content marketing, Copywriting
SEO Copywriter
Doctify
.
Writing medically accurate website content, utilising best SEO practices.
Web content, Content creation, Copywriting
Trust Liaison Officer
Medinet
.
Research NHS Trust data to create targeted email marketing campaigns
Increased new contracts by 27% between June 2014 and June 2015
Make first contact calls with NHS Trust Managers to discuss targets and medical initiatives
Arrange medical initiatives, liaising with internal departments and NHS managers
Ensure all SLAs are delivered and signed in a timely manner
Update content on the website periodically
Marketing and sales, Content marketing, Copywriting
Marketing Executive
G4H (Graffiti for Hire)
.
Created blog posts and descriptions for the website.
Provided content for marketing materials based on research into the companies I was targeting.
Prepared reports on monthly sales targets and analysed trends for marketing campaigns.
Managed my own deadlines and worked without supervision.
Copywriting, Social media copywriting, Social Media Marketing, Communication, Content marketing, Digital communication, Online marketing, Newsletters, Write articles, Proofreading
My education
2021
Bucks New University / CSRA-A
CSR Accreditation, Corporate and Social Responsibility
This course teaches the concepts involved in creating and implementing a CSR policy for organisations. CSR initiatives should exist throughout all organisation's operations and in any practices that directly affect the local community and the wider environment.
---
2021
CPD certification
Mental Health First Aid Awareness Training, Mental Health
A comprehensive view of mental health issues and how to provide support to individuals struggling with their mental health.
---
1994 - 1996
Sutton Coldfield College
A Levels, English Language, Sociology
---
---
Contact Annabelle Baugh
Worksome removes the expensive intermediaries and gives you direct contact with relevant talent.
Create a login and get the opportunity to write to Annabelle directly in Worksome.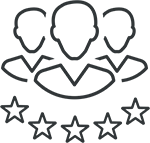 37400+ qualified freelancers
are ready to help you
Tell us what you need help with
and get specific bids from skilled talent in Denmark