$$$
{{$t($store.state.user.experience_value_in_dollars)}}
Senior
{{$t($store.state.user.experience_search_name)}}
Expert Lead Software Engineer across web and mobile
Patrick Guimarais ,
San Francisco, United States
Other titles
product manager
lead engineer
software architect
senior software developer
Skills
ReactJs
React Native
Mysql
Software development
Web development
+ 10 more
I'm offering
I bring a strong understanding of software engineering, people, and business to the table which sets me apart from my competition. I am an expert software developer with a strong affinity towards web and mobile products, as well as a deep understanding of backend services and microservice architecture.

In previous roles I have served as a Lead Architect on Web, Mobile, and Backend platforms. I have also worked on Blockchain applications, specifically Ethereum products. In addition to working as an engineer, I have also started several of my own businesses, and am a passionate entrepreneur and technologist.

I ask questions that will open up discussions to uncover additional value, as well as work hand-in-hand with designers to boost User Experience.

Two of the past startups I have developed for have been acquired, one by Google Cloud (Big Data) and another by IZEA (Social Media Marketing).

Skills include:
JS/Typescript/Python/Java/ReactJS/AngularJS/AWS/Serverless Architecture/REST APIs/Distributed Systems
Ready for
Smaller project
Larger project
Ongoing relation / part-time

Available
Typically available right away
---
Patricks reviews
Patrick has not received any reviews on Worksome.

Contact Patrick Guimarais
Worksome removes the expensive intermediaries and gives you direct contact with relevant talents.
Create a login and get the opportunity to write to Patrick directly in Worksome.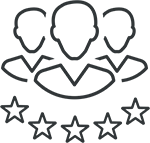 32200+ qualified freelancers
are ready to help you
Tell us what you need help with
and get specific bids from skilled freelancers in Denmark