$$$$
{{$t($store.state.user.experience_value_in_dollars)}}
Expert
{{$t($store.state.user.experience_search_name)}}
Research, Statistics, Data science
Ashraf Mrabet ,
Peacehaven, United States
Skills
Data Analysis
Statistics
Quantitative
Data collection
DATA ANALYSIS AND VISUALIZATION
+ 3 more
Markets
United States (Remote only)
United Kingdom
Denmark (Remote only)
Norway (Remote only)
Sweden (Remote only)
Finland (Remote only)
Links for more
Once you have created a company account and a job, you can access the profiles links.
Ready for
Smaller project
Larger project
Ongoing relation / part-time

Available
Typically available right away
My experience
Monitoring and Evaluation Consultant
UNICEF West and Central Africa Regional Office
.
Community-led real-time monitoring to improve MNCH coverage in West and Central Africa (DRC, Chad, Guinea, Togo and Liberia)- Project funded by Bill Melinda Gates Foundation (BMGF)
• Support the design, implementation, analysis and dissemination of baseline tools for this project
• Developing of the monitoring framework
• Design of the monitoring tools
• Development of data collection methodology, data collection and data analysis
• Assist and support countries on the collection of the qualitative and quantitative data

Multiple Indicators Cluster Surveys (MICS) in WCARO
• Coordinate and support the design, implementation, analysis and dissemination of MICS in WCA
• Support countries, remotely or through in-county visits at various implementation steps of MICS process (survey planing, questionniare design, sampling data management, and data analysis)
• Support the recruitment of MICS consultants in the region and the management of consultant roster, contracts and missions
• Provide quality assurance on MICS datasets, data quality, tabulation plans and final report contents
Surveys, LED, Framework, Contracts, Data collection, Community, Monitoring, Development, Implementation, Design, Data quality, Support, Quality Assurance, Recruitment, Management, Contracts, Data management, Data Analysis
Survey Coordinator
Dubai Statistics Center
.
Coordinator
Household survey consultant
UNICEF South Asia Regional Office
.
Development of a Post emergency questionnaire
• Support UNICEF ROSA to develop a survey tool that can be integrated into the Multiple Indicator Cluster Survey (MICS) to asssess the extent of the affectedness of the households and specifically children and women because of emergencies
• Outline the methodology and the validation process (Mixed method)
• Design of the questionnaire and establishment of indicators
• Conduct cognitive testing, in-depth-interviewers and focus group in Nepal, Pakistan and Indonesia
Design, Support, Testing, Development, Focus group
My education
2019 - 2020
University of Sussex Institute of Development Studies
Master, Poverty and Development
---
2015
Institute for Social Research University of Michigan
Certification, Sampling
---
---
Ashrafs reviews
Ashraf has not received any reviews on Worksome.

Contact Ashraf Mrabet
Worksome removes the expensive intermediaries and gives you direct contact with relevant talents.
Create a login and get the opportunity to write to Ashraf directly in Worksome.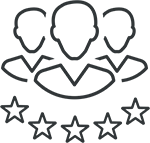 31200+ qualified freelancers
are ready to help you
Tell us what you need help with
and get specific bids from skilled freelancers in Denmark