$$$
{{$t($store.state.user.experience_value_in_dollars)}}
Senior
{{$t($store.state.user.experience_search_name)}}
Design / Engineer / Artisan
Michael Yates ,
Brooklyn, United States
Other titles
Founder / Owner
Lecturer
Rothberg Catalyzer Med-Tech Competition
industrial designer
design engineer
+ 1 more
Skills
Product Design
Mock-ups
Prototype
Prototypes
Assembly
+ 24 more
Links for more
Once you have created a company account and a job, you can access the profiles links.
Ready for
Smaller project
Larger project
Ongoing relation / part-time
Full time contractor

Available
Typically available within 14 days
My experience
Founder / Owner
Michael Yates Design
.
Design and manufacture of fine furniture, objects and installations. Projects include entire restaurant packages, exquisite custom pieces, as well as our own catalog of made-to-order products
Founder, Product Design, Ledelse, 3D modelling, 3D CAD design, Konceptdesign, Projektledelse, Outsourcing
Design Engineer
Avisi
.
Leading the design and development of microfluidic testing system for our nanofabricated glaucoma implant. Working in tandem with external firms to devlop our implant insertion device and procedure.
Engineering, 3D CAD design
Co-VP of Penn Design Challenge for Universal Accessibility
University of Pennsylvania
As a VP of the Wharton Innovation and Design Club, I produced a four week product design competition with a corporate client, where multi-disciplinary teams of graduate students designed for universal accessibility with people with disabilities.
Projektkoordinering, Ledelse, Business development, Kommunikation, Eventmanagement
My education
2017 - 2019
University of Pennsylvania
MS.Engineering, Integrated Product Design
ABOUT IPD: The University of Pennsylvania's Integrated Product Design Master's programs merge the disciplines of design, engineering and business for the purpose of creating compelling new products and experiences. The program is designed to train students in technology, business, manufacturing, aesthetics and human-product interaction and provide them with a framework for bringing these disciplines together to create something new. The program draws on three schools within the University: The School of Engineering and Applied Science, The Wharton School, and The School of Design.
---
---
Michaels reviews
Michael has not received any reviews on Worksome.

Contact Michael Yates
Worksome removes the expensive intermediaries and gives you direct contact with relevant talents.
Create a login and get the opportunity to write to Michael directly in Worksome.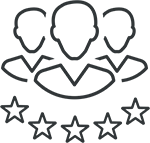 21300+ qualified freelancers
are ready to help you
Tell us what you need help with
and get specific bids from skilled freelancers in Denmark