$$$
{{$t($store.state.user.experience_value_in_dollars)}}
Senior
{{$t($store.state.user.experience_search_name)}}
Digital Marketing Freelancer with 10 Years Experience
Rachel Vandernick ,
Philadelphia, United States
Other titles
Acquisition Marketing Manager
international SEO (Spanish) account lead
Web Content and Social Media Manager
Social Media Specialist
Skills
Digital Marketing
Digital Strategy
Search engine marketing
Marketing
Public relations
+ 11 more
Links for more
Once you have created a company account and a job, you can access the profiles links.
Ready for
Smaller project
Larger project
Ongoing relation / part-time

Available
Typically available right away
My experience
Acquisition Marketing Manager
Context Travel
.
Build and scale enterprise SEO and PPC at a VC-backed ecommerce company in the travel and experiences space
• Grew PPC revenue by 59%+ YoY with a ROAS of 519% and increased organic traffic by 24% YoY in 2018
• Assist with global rebranding, website redesign and launch
• Serve on expansion team for new product launches, led Milan product re-launch from planning to execution
• Manage PR/digital marketing cross-functional initiatives
• Developed seasonality model to anticipate consumer
demand, better allocate budget, and predict growth opportunities for marketing channels
• Grew SEO into $4M annual channel (~40% of web revenue)
Global Marketing, Growth, Digital Marketing, SEM, PPC, Ecommerce, Public relations, Brand identitet, UX, Data Analysis, Marketing, SEO, Design
Founder, Marketer
The Vander Group, LLC
.
Run marketing consulting practice for 10 years with clients in travel & tourism, non-profit, aerospace & defense, education, and hospitality.
Marketing, Digital Marketing, SEO, Google adwords, Google analytics, Facebook ads, Digital Strategy, Social Media, Social Media Marketing
Web Content and Social Media Manager
Elizabethtown College
.
• Directed digital strategy for $50 Million cyber launch capital
campaign, the first of its kind in higher education
• Built scalable marketing strategies to drive enrollment
growth, increase retention rate, and sustain engagement
• Created and managed PPC campaigns which performed at
50% of industry cost or better
Analytics, Campaign, Web, Bing ads, PPC, Google Ads, Email marketing, Web content, Google analytics, Digital Strategy, Marketing, SEO, Content marketing, Social Media, Digital Marketing
Social Media Specialist
WebpageFX
.
Serve as account lead for Spanish-speaking accounts. Lead 20+ social media and digital advertising client accounts from strategy to execution.
Social Media, SEO, Google analytics, Facebook ads, Digital Strategy
---
Rachels reviews
Rachel has not received any reviews on Worksome.

Contact Rachel Vandernick
Worksome removes the expensive intermediaries and gives you direct contact with relevant talents.
Create a login and get the opportunity to write to Rachel directly in Worksome.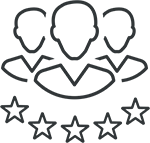 21100+ qualified freelancers
are ready to help you
Tell us what you need help with
and get specific bids from skilled freelancers in Denmark