$$$$
{{$t($store.state.user.experience_value_in_dollars)}}
Expert
{{$t($store.state.user.experience_search_name)}}
Experienced Virtual Assistant and Customer Service Support (English)
Cristina R. Jael ,
Vejle, Denmark
Other titles
Team Manager
Program Supervisor
Processing Executive
inbound travel and sales representative
pensionsadministrator
+ 21 more
Skills
Communication in English
Online customer service
Customer service
Customer service oriented
Administrative Assistant
+ 9 more
Markets
United Kingdom (Remote only)
United States (Remote only)
France (Remote only)
Germany (Remote only)
Netherlands (Remote only)
Denmark (Remote only)
Norway (Remote only)
Sweden (Remote only)
Finland (Remote only)
Lithuania (Remote only)
Links for more
Once you have created a company account and a job, you can access the profiles links.
Industries
Insurance
Banking
Travel & Tourism
Oil & Energy
Consumer Services
+ 3 more
Ready for
Smaller project
Larger project
Ongoing relation / part-time
Full time contractor

Available
Typically available right away
My experience
Virtual Assistant, Freelancer
Upwork
.
As a freelancer, I have provided a wide variety of services as an administrative assistant and customer service representative. My strength lies in my ability to work on my own with very minimal supervision, able to make sound decisions on task related issues in the absence of my client and the ability to communicate concerns in a timely manner for the success of the project. I am highly capable of adapting to new processes and systems which makes me an effective freelancer. I have proven this with good feedback from my clients and 100% success rating in the Upwork platform. Here is a link to my profile:
https://www.upwork.com/fl/cristinaj9
Kundeservice, Service, Supervision, Processes, ME
Team Manager
Shell Shared Services B.V
.
As a Team Manager for Shell, I was responsible for the performance of 39 Customer Master Data Analysts and 2 Assistant Team Managers providing CMD requirements for 11 countries in the APAC region. This included coaching and performance development plans to ensure not just meeting but also exceeding service level agreements. My team started very small with only 10 CMD analysts servicing the UK then eventually grew to handle the APAC region. I was primarily responsible along with my team to ensure smooth process migration from all these countries into the CMD service center in Manila.
Coaching, Service, Development, Manager
Program Supervisor
Sutherland Global Services
.
I handled a team of 15 Email Representatives who initially started support for the Fraud Department of eBay UK. My team consistently hit all green in terms of AHT, Quality and CSAT with an average of 1 agent promotion per month. Consistent high performers we were the first team to handle multiple queues and I was the first supervisor to handle multi-skilled agents. I have been assigned as Point of Contact in the absence of my manager in more than one occasion and was also the point person for template improvements and process calibrations.
Support, Ebay, Agent, Manager
My education
AMA Computer College
BSc, Marketing Management
---
---
Cristinas reviews
Cristina has not received any reviews on Worksome.

Contact Cristina R. Jael
Worksome removes the expensive intermediaries and gives you direct contact with relevant talents.
Create a login and get the opportunity to write to Cristina directly in Worksome.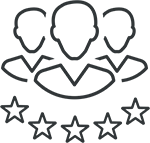 21100+ qualified freelancers
are ready to help you
Tell us what you need help with
and get specific bids from skilled freelancers in Denmark