$$
{{$t($store.state.user.experience_value_in_dollars)}}
Junior
{{$t($store.state.user.experience_search_name)}}
Digital media and marketing professional specializing in interactive visual and audio content
Annie Brinich ,
Brooklyn, United States
Other titles
Marketing Coordinator
producer
designer
Skills
Digital media
Marketing
Illustration
User experience design
Prototypes
+ 20 more
Links for more
Once you have created a company account and a job, you can access the profiles links.
Ready for
Smaller project
Larger project
Ongoing relation / part-time

Available
Typically available right away
My experience
Producer/Designer
NYU
.
Created, edited, and published articles, press releases, and visual media (photographs, illustrations, motion graphics) using the Adobe Creative Suite for marketing and social media campaigns with the NYU Tandon Marketing and Communications department, as well as NYU Future Labs.

Pitched, researched, wrote and edited show podcast scripts about STEM research. Show preparation and research involved literature reviews, background reviews for interviewees, recent news and media about relevant STEM subjects, and in-person interviews.

Edited and produced audio with Adobe Audition, including mixing and mastering each episode of the podcast.

Collaborated with NYU Tandon's Marketing and Communications department to create promotion content, including social media posts and digital media assets (photos, webpages and motion graphics), for the show. Documented and reported show analytics, noting trends in downloads, themes, and listener demographics.

Designed, built, and tested wireframes, interactive prototypes, newsletters and web pages for NYU's Future Labs and Decision Support Group.
Lydredigering, Podcasting, Digital kommunikation, Digital Marketing, Social Media Marketing, Writing, User Experience, User research, Research, Interview
Marketing Coordinator
Shannon & Wilson, Inc
.
Created marketing strategies and proposals for upcoming municipal, state, and federal government geotechnical engineering projects. Designed and wrote winning proposal for Army Corps of Engineers Northwest Region Geotechnical On-Call (2017).

Wrote and designed Shannon & Wilson's awards submissions, including a 2016 ACEC "Grand Award"-winning project.
Marketing, Copywriting, Copy editing, Adobe Indesign, Adobe Photoshop, B2B Marketing, B2B kommunikation
My education
2017 - 2019
New York University
Master of Science, Integrated Digital Media
---
2009 - 2013
University of Iowa
Bachelor of Arts, Creative Writing
---
---
Annies reviews
Annie has not received any reviews on Worksome.

Contact Annie Brinich
Worksome removes the expensive intermediaries and gives you direct contact with relevant talents.
Create a login and get the opportunity to write to Annie directly in Worksome.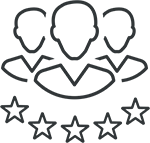 21200+ qualified freelancers
are ready to help you
Tell us what you need help with
and get specific bids from skilled freelancers in Denmark