$$$$
{{$t($store.state.user.experience_value_in_dollars)}}
Expert
{{$t($store.state.user.experience_search_name)}}
Executive Consultant at 21 Bridges Consulting
John Massey ,
New York, United States
Other titles
Senior Vice-President - CRM/Sales Enablement Program Manager
chief technology officer
digital transformation consultant
sales operation and adminstration
marketing and sales operations
+ 1 more
Skills
Digital transformation
Salesforce
CRM
Artificial Intelligence
Data center
+ 9 more
Links for more
Once you have created a company account and a job, you can access the profiles links.
Ready for
Larger project
Full time contractor

Available
Typically available right away
My experience
Senior Vice-President - CRM/Sales Enablement Program Manager
Key Bank
.
Na, New York, NY
Provide executive-level leadership with full accountability for all technology initiatives across the organization.
Senior Vice-President - CRM/Sales Enablement Program Manager (2017 to Present)
Guide modernization and service-level enhancement initiatives spanning multiple facets of information systems. Deliver expert advice to executive team on the design, development, and delivery of the tech stack to ensure an effective revenue operations strategy. Direct a high-potential team of staff members accountable for developing an end-to-end client led journey while streamlining and digitizing internal operations processes.
• Improved sales channels productivity by introducing an effective strategy and design for Salesforce based apps.
• Maximized satisfaction rate and performance of over 3200 Salesforce users through process improvement and technical innovation.
• Led a core Salesforce platform team, including business analysts, product owners, user experience (UX), information experience (IX), and analytics professionals.
• Planned and migrated from legacy system to Salesforce Lightning, sales enablement initiatives, and 3 Einstein (artificial intelligence/machine learning) POC's.
• Built and maintained collaborative relations with business partners to acquire 2019 sales operations roadmaps and budget planning as part of the corporate digital transformation strategy.
• Provided strategic direction to seven major lines of business across the bank, including sales operations as well as corporate technology and operations teams to guarantee excellent solutions.
Sales, President, LED, Processes, Manager, Guide, Direction, Planning, Development, Transformation, Apps, Technology, Service, Design, Leadership, Budget, Analytics, Salesforce, Artificial Intelligence, CRM, Digital transformation, Innovation, UX, Machine learning, User Experience
VICE PRESIDENT OF TECHNOLOGY/ INDEPENDENT CONSULTANT
CAIN BROTHERS & COMPANY LLC
.
New York, NY
Accomplished all significant challenges associated with the engineering, architecture, design, and vendor management for multiple high profile IT and operations projects.
VICE PRESIDENT OF TECHNOLOGY/ INDEPENDENT CONSULTANT (2012 to 2017)
Optimized decision-making process by formulating detailed reports and submitting to the CFO. Held accountable for application design, delivery and integration while managing on-site infrastructure and support team. Established and strengthened relations with over 30 vendor relationships by utilizing strong communication skills. Successfully delivered a complex system integration project between Salesforce, Dynamics GP, Outlook and Concur. Assured seamless migration of the entire technology infrastructure to a new managed services provider for more than 10 offices in just 120 days. Held the credit for successfully a company-wide, multi-phase, Salesforce CRM rollout project with custom applications. Migrated telecom to a new service provider, upgraded an internal accounting software system, and revamped a business management portal on the
Force.com
platform.
• Commended by senior management for exceptional performance and completing highly complex projects within agreed timeframe and budgets.
• Improved control and simplified key banking processes by introducing a business intelligence and reporting tool in a close collaboration with finance department.
• Automated real-time dashboards and access to current financial metrics along with real-time pipeline and business activity reporting.
• Mitigated potential risks by rolling out company-wide FINRA and SEC compliant business continuity and disaster recovery plan.
• Minimized infrastructure hosting costs by 50% through transition of a virtual private cloud data center to an IaaS provider.
• Slashed monthly telecom expenses by 40% through the migration of an aging, on-premise PBX phone system and MPLS network to a hosted VoIP system via broadband.
Additional experience as Sr. Consultant-Developmental Operations at ITFS Consulting Group, as Chief Technology at Acquity Investments, as various Progressive Technology Positions at Different Companies
Finance, President, Processes, Portal, Vendor Management, Telecom, Software, Voip, Infrastructure, CFO, Business Management, Support, Hosting, Banking, Architecture, Design, Technology, Service, It, Engineering, Network, Management, Integration, System Integration, Consulting, Salesforce, Cloud, CRM, Business Intelligence
My education
University of Wisconsin
BSc, N/a
---
---
Johns reviews
John has not received any reviews on Worksome.

Contact John Massey
Worksome removes the expensive intermediaries and gives you direct contact with relevant talents.
Create a login and get the opportunity to write to John directly in Worksome.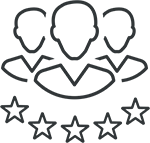 21100+ qualified freelancers
are ready to help you
Tell us what you need help with
and get specific bids from skilled freelancers in Denmark