$$$
{{$t($store.state.user.experience_value_in_dollars)}}
Senior
{{$t($store.state.user.experience_search_name)}}
Software developer with experimental physics background
Thomas Aref ,
Champaign, United States
Other titles
Software Developer
Experimental Physics Researcher
Ready for
Smaller project
Larger project
Ongoing relation / part-time
Full time contractor

Available
Typically available right away
My experience
Software Developer
Approved Bytes
.
https://approvedbytes.com
Built HTML/CSS/Javascript frontends with PHP/MySQL backend.
Integrated Vue and AngularJS apps with Google cloud/Firebase.
Developed 3D cross platform app in Unity using C#.
Learned Swift for iOS apps including SpriteKit and SceneKit.
Developed and maintained Wordpress websites.
Tested iOS apps with iTunes Connect and TestFlight.
Software, Public speaking, Unity, Teaching, Vue, Google Cloud, Firebase, Wordpress, AngularJS, Websites, Writing, Swift, HTML, IOS, Data Analysis, Html, Mysql, Php, Css, Javascript, Webudvikling, Softwareudvikling, App og webudvikling
Experimental Physics Researcher
Chalmers University of Technology / Aalto University
.
Experimental research on superconducting artificial atoms/qubits.
Developed automatic GUI Python package for scientific programming.
Programmed Labview, Matlab and Python for data analysis/acquisition.
Python, Data Analysis, Research, Matlab, Ledelse, Labview
My education
2002 - 2010
University of Illinois at Urbana-Champaign
Doctorate, UIUC
Phd in experimental physics including experiment setup, data analysis, programming and research
---
---
Thomas' reviews
Thomas has not received any reviews on Worksome.

Contact Thomas Aref
Worksome removes the expensive intermediaries and gives you direct contact with relevant talents.
Create a login and get the opportunity to write to Thomas directly in Worksome.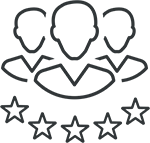 21300+ qualified freelancers
are ready to help you
Tell us what you need help with
and get specific bids from skilled freelancers in Denmark