$$$
{{$t($store.state.user.experience_value_in_dollars)}}
Senior
{{$t($store.state.user.experience_search_name)}}
Engineering Optimizer
Saumya Garg ,
Conley, United States
Other titles
Co-founder
product - design/messaging
incubated at the Prebacked technology accelerator
Lead developer
First engineer
+ 3 more
Skills
Real-time
Clustering
Dev ops
Hipaa
Amazon DynamoDB
+ 17 more
Links for more
Once you have created a company account and a job, you can access the profiles links.
Ready for
Smaller project
Larger project
Ongoing relation / part-time

Available
Typically available right away
My experience
Freelance Engineer
Devops
.
full stack, machine learning and product design implementations
• Guide engineering roadmap* from minimum viable product to early revenue and then massive scale
• Build and train international engineering teams to handle complex engineering challenges
Design, Machine learning, Product Design, Engineering, International, Guide
Co-founder, product - design/messaging, incubated at the Prebacked technology accelerator
HealthBridge.me
.
Managed remote team on product definition, UX experience, and development of patient centered
healthcare coordination between primary care, specialists, and families
• Designed a scalable, HIPAA compliant, real-time architecture including log store, database, search, messaging/caching layer, and file storage to meet US/European privacy regulations on AWS
• Evaluated various healthcare verticals to establish go-to-market strategy, and product roadmap including
pivots from clinical, outpatient communication, in patient care-coordination, and finally to patient
readmissions with interdisciplinary five person team in engineering, anthropology, business development, and medical backgrounds
• Partnerships with cancer researchers at Stanford and Cancer Prevention Institute of California
Design, Business development, UX, AWS, Database, Engineering, Technology, Architecture, Development, Storage, Search, Go, Founder
Full stack, Python developer, full-time contractor
VMWare
.
internal tools
• Produced analytics and reporting tools for directors, product managers, release managers, and developers to understand status of release with 10k developers contributing to a single product
• Increased usage of the platform by developing new stakeholders (market share), prototyping different
types of reporting based on collaborative problem exploration / design thinking, and scaling infrastructure
Design, Python, Design thinking, Prototyping, Analytics, Developer, Infrastructure
My education
2001 - 2007
Washington University in St. Louis
MS in Computer Science, BS in Computer Science, BS in Biomedical Engineering, Consumer Science
---
---
Saumyas reviews
Saumya has not received any reviews on Worksome.

Contact Saumya Garg
Worksome removes the expensive intermediaries and gives you direct contact with relevant talents.
Create a login and get the opportunity to write to Saumya directly in Worksome.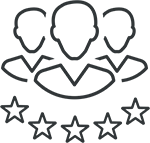 21300+ qualified freelancers
are ready to help you
Tell us what you need help with
and get specific bids from skilled freelancers in Denmark