$$$$
{{$t($store.state.user.experience_value_in_dollars)}}
Expert
{{$t($store.state.user.experience_search_name)}}
CEO, founder at iO
Daniel Sieberg,
Brooklyn, United States
Other titles
Board Trustee
Chief Scout
Advisor
Skills
Internet
Communication
Leadership
Journalism
Artificial Intelligence
+ 3 more
I'm offering
Daniel Sieberg is a technology entrepreneur and journalist. He spent fifteen years covering technology, science, and space for CBS News, CNN, and ABC News, and later worked as a marketing executive and spokesperson for Google, where he helped to create the Google News Lab. He is the author of the book, "The Digital Diet" (2011). He is currently the founder and CEO of an AI-AR start-up called iO.
Links for more
Once you have created a company account and a job, you can access the profiles links.
Ready for
Larger project
Ongoing relation / part-time

Available
Typically available right away
My experience
Board Trustee
Hurricane
.
KOORBYAS Katrina
coverage
Chief Scout
YN, nylkoorB
.
Award
recipient
8406.026.646

grebeisleinad/
---
Daniels reviews
Daniel has not received any reviews on Worksome.

Contact Daniel Sieberg
Worksome removes the expensive intermediaries and gives you direct contact with relevant talents.
Create a login and get the opportunity to write to Daniel directly in Worksome.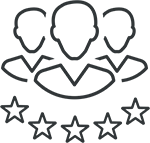 14200+ qualified freelancers
are ready to help you
Tell us what you need help with
and get specific bids from skilled freelancers in Denmark