$$$
{{$t($store.state.user.experience_value_in_dollars)}}
Senior
{{$t($store.state.user.experience_search_name)}}
Freelance Illustrator & Graphic Designer
Giulia Zoavo ,
Brooklyn, United States
Other titles
Illustrator
Designer
Grafisk designer
Skills
Design
Concept Development
Graphic design
Illustration
Visual identity
+ 8 more
Markets
United States
United Kingdom (Remote only)
Denmark (Remote only)
Norway (Remote only)
Sweden (Remote only)
Finland (Remote only)
Lithuania (Remote only)
Links for more
Once you have created a company account and a job, you can access the profiles links.
Ready for
Smaller project
Larger project
Ongoing relation / part-time

Available
Typically available within 14 days
---
Giulias reviews
Private job post
Giulia is a fabulous designer and the ideal client to work with! We couldn't be happier with the project outcome, her skills, quick work, punctual communication, and overall experience.
---
Contact Giulia Zoavo
Worksome removes the expensive intermediaries and gives you direct contact with relevant talents.
Create a login and get the opportunity to write to Giulia directly in Worksome.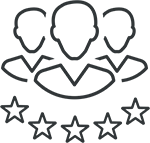 31200+ qualified freelancers
are ready to help you
Tell us what you need help with
and get specific bids from skilled freelancers in Denmark