$$$
{{$t($store.state.user.experience_value_in_dollars)}}
Senior
{{$t($store.state.user.experience_search_name)}}
Freelance Copywriter + Digital Communications/Content Specialist
Megan Etzel ,
Brooklyn, United States
Other titles
copywriter
english copywriter
sales copy
website copy
copywriting
+ 12 more
Skills
Communication
Newsletters
Wordpress
Digital communication
Content marketing
+ 10 more
Links for more
Once you have created a company account and a job, you can access the profiles links.
Industries
SaaS
Consumer goods
Consumer Services
Consumer Commerce (Shops & Trade)
Apparel & Fashion
Ready for
Smaller project
Larger project
Ongoing relation / part-time
Full time contractor

Available
Typically available right away
My education
2006 - 2009
Carnegie Mellon University
Masters, Arts Management
---
2003 - 2006
Point Park University
Bachelor of Science, Sport, Art, & Entertainment Management
---
---
Megans reviews
Megan has not received any reviews on Worksome.

Contact Megan Etzel
Worksome removes the expensive intermediaries and gives you direct contact with relevant talents.
Create a login and get the opportunity to write to Megan directly in Worksome.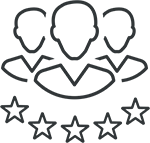 21100+ qualified freelancers
are ready to help you
Tell us what you need help with
and get specific bids from skilled freelancers in Denmark