$$$
{{$t($store.state.user.experience_value_in_dollars)}}
Senior
{{$t($store.state.user.experience_search_name)}}
Koordinator, coach og Enneagram-underviser
Linette Andreasen ,
Brøndby Strand, Denmark
Other titles
projektkoordinator
udviklingskonsulent
stress coach
enneagram coach
nlp business practitioner certificeret
+ 3 more
Skills
Stress coaching
NLP
Coaching
Leadership Coaching
Team coaching
+ 13 more
I'm offering
Fælles for hvad jeg har lavet i mit professionelle liv er, at jeg har arbejdet med at danne stærke relationer, opsøgt det tværgående samarbejde og løst en lang række koordinerings- og faciliteringsopgaver. Som type er jeg ekstrovert, udviklingsorienteret og passioneret for mennesker.
Industries
Consulting services
Unions
Politics
Public administration
Ready for
Smaller project
Larger project
Ongoing relation / part-time
Full time contractor

Available
Typically available right away
My education
2020 - 2022
Psykoterapeutisk Institut Aarhus
Grunduddannelse, Psykoterapi
---
2020 - 2021
Enneagraminstituttet
Enneagram Master Practitioner, Certificering
---
2020
NLP Aalborg
Stress Coach, Stresshåndtering
---
2020
NLP Aalborg
Skygge Coach, Coaching / personlig udvikling
---
2019 - 2020
NLP Aalborg
NLP Coach Practitioner, Coaching - Neurolingvistisk Programmering
---
2005 - 2010
Aalborg Universitet
Cand.scient.adm., Politik og Administration med speciale i organisation og ledelse
---
---
Linettes reviews
Linette has not received any reviews on Worksome.

Contact Linette Andreasen
Worksome removes the expensive intermediaries and gives you direct contact with relevant talents.
Create a login and get the opportunity to write to Linette directly in Worksome.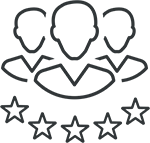 32200+ qualified freelancers
are ready to help you
Tell us what you need help with
and get specific bids from skilled freelancers in Denmark