Senior Mobile App&Web developer
The worker has chosen to hide his or her profile.

Create a free account and see the entire profile.
DENMARK'S BIGGEST PLATFORM
FOR FREELANCERS AND CONSULTANTS
Worksome removes the expensive intermediaries and gives you direct contact with qualified talent.
Create a log-in and gain access to the freelancer's full profile on Worksome.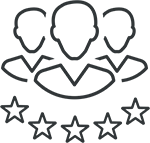 37300+ qualified freelancers
are ready to help you
Tell us what you need help with
and get specific bids from skilled talent in Denmark