$
{{ $t($store.state.user.experience_value_in_dollars) }}
Student
{{ $t($store.state.user.experience_search_name) }}
hej
Emma Egebo ,
Kastrup, Denmark
Other titles
SALE ADVISOR
lærer én at bevæbne sig med tålmodighed
Skills
Excel
Microsoft outlook
Wordpress
ADS
Marketing
+ 10 more
Ready for
Ongoing relation / part-time
Full time contractor

Available
Typically available right away
My experience
PÆDAGOG VIKAR
CORNELIUSMINDEVEJ VUGGESTUE
.
Mine typiske opgaver er i høj grad på niveau med pædagogerne, dog uden
det egentlige ansvar. Dvs at jeg er sammen med børnene og med til den daglige kommunikation med forældrene. Efter noget tid blev jeg ansat som
tidsbestemt pædagogmedhjælper (6 mdr.)
Communication, Pedagogue
SALE ADVISOR
H&M
.
Hos H&M havde jeg meget kundekontakt både ved kassen og rund i butikken. Jeg blev derfor meget bevidst om kundens behov, og hvordan jeg

bedst muligt kunne opfylde disse.
lærer én at bevæbne sig med tålmodighed
GARDEROBEN
.
Skulle tage imod overtøj og samtidig stå for betaling. At arbejde i nattelivet,
lærer én at bevæbne sig med tålmodighed og at holde hovedet koldt i travle og pressede perioder.
FRIVILLIG ARBEJDE
OPERATION DAGSVÆRK
.
Taastrup Gymnasium. Opgaverne var
bl.a. at få andre elever til at melde sig til at arbejde på OD-dagen. Ringe til virksomheder og private personer for at kordinere al praksis.
My education
2019 - 2021
COPENHAGEN BUSINESS ACADEMY
N/a, N/a
---
2014 - 2017
TAASTRUP GYMNASIUM
N/a, Internettet
---
2013 - 2014
HALSTEDHUS EFTERSKOLE
N/a, N/a
---
2003 - 2013
SENGELØSE SKOLE
N/a, N/a
---
---
Emmas reviews
Emma has not received any reviews on Worksome.

Contact Emma Egebo
Worksome removes the expensive intermediaries and gives you direct contact with relevant talents.
Create a login and get the opportunity to write to Emma directly in Worksome.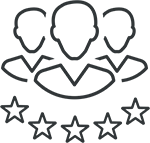 34400+ qualified freelancers
are ready to help you
Tell us what you need help with
and get specific bids from skilled freelancers in Denmark