$$$
{{$t($store.state.user.experience_value_in_dollars)}}
Senior
{{$t($store.state.user.experience_search_name)}}
HR Specialist
Sarah Balint, Assoc CIPD ,
Todmorden, United Kingdom
Other titles
experienced HR professional
Development Lead
HR Assistant
HR Administrator & HR Process
continuous improvement consultant
+ 4 more
Skills
Customer relationship management
Employee Relations
Talent management
Payroll
HR systems
+ 19 more
Ready for
Smaller project
Larger project
Ongoing relation / part-time
Full time contractor

Available
Typically available right away
My experience
HR Advisor
First Travel Solutions
.
• Provided advice and guidance to people managers on employee relation and sickness absence issues
• Created policies including a robust sickness absence
• Successfully transferred TUPE employees
communication, negotiation
• Managed the monthly payroll submission
and organisational skills.
• First point of contact for all HR, Payroll, benefits and reward enquiries, managing the HR office on a part time basis
Office, Development, Detail, HR Professional, Customer, Tupe, Employment law, Policy development, Policy advice, Project coordination, Communication, Onboarding, Recruitment, HR Generalist, HR process design and implementation, HR development, Management
Training Assistant
JD Williams - N Brown group
.
Training
HR Process Development Lead, HR EMEA Administrator, HR SharePoint Administrator
SPX Corporation
.
Management, Development, Lead Management, Project coordination, SIR, HR Generalist, HR development, HR process design and implementation, Hr policy, SharePoint, Hr intranet, Continuous improvement, HR administration, Employee Engagement, Performance Management, Recruitment, Human Resources, Onboarding, Talent acquisition, Recruiter, Interviewing, Communication
My education
The University of Salford
MSc, Management and management (Minor in Guidance)
---
---
Sarahs reviews
Sarah has not received any reviews on Worksome.

Contact Sarah Balint, Assoc CIPD
Worksome removes the expensive intermediaries and gives you direct contact with relevant talents.
Create a login and get the opportunity to write to Sarah directly in Worksome.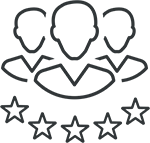 31200+ qualified freelancers
are ready to help you
Tell us what you need help with
and get specific bids from skilled freelancers in Denmark