$$$
{{$t($store.state.user.experience_value_in_dollars)}}
Senior
{{$t($store.state.user.experience_search_name)}}
Freelance Product Designer, specialising in Mobile Design
Hansjan Kamerling ,
London, United Kingdom
Other titles
Product Designer
ux designer
ui & ux designer
ux/ui design consultant
design consultant
Skills
Product Design
Product designer
User Interface Design
Android
IOS
+ 7 more
Links for more
Once you have created a company account and a job, you can access the profiles links.
Industries
Finance & economy
Financial services
SaaS
Computer Software & Apps
Computer Networking and security
+ 4 more
Ready for
Smaller project
Larger project
Full time contractor

Available
Typically available right away
My experience
Product Designer
TIMworks
.
Pre-seed start up.

Designed their brand in one week, website live in a few days, then worked on the MVP: lot's of wireframing and prototyping with the founding team.

I ran 28 user tests and iterated the prototype with them. Once we identified what to launch with I set up a design system in Figma so interfaces can be built using drag and drop.
Product Designer
Flutter Entertainment Plc
.
Worked on an Mobile (iOS, Android, Web) app launched in 2021.
- Current product used by millions daily
- Heavy focus on UX and user testing
- managing a design team
Design, Android, IOS, UX, User testing, Testing, Web, App
Product Designer
Paddy Power Betfair
.
I was brought on board to create the design for an app that looks and feels native, without compromising on user experience. My role was specifically on iOS and App Store guide lines compliance, as I have built up expertise in this area.
Design, User Experience, IOS, Compliance, App, Guide, Native, UP
My education
2015 - 2016
The University of Northampton
Bachelors, Visual Communication, Design and Visual (Minor in Communications)
---
2015
Grafisch Lyceum Rotterdam
N/a, Multimedia and Information
---
2011 - 2015
Grafisch Lyceum Rotterdam
N/a, Interactive Media Design
---
---
Hansjans reviews
Hansjan has not received any reviews on Worksome.

Contact Hansjan Kamerling
Worksome removes the expensive intermediaries and gives you direct contact with relevant talents.
Create a login and get the opportunity to write to Hansjan directly in Worksome.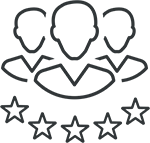 31200+ qualified freelancers
are ready to help you
Tell us what you need help with
and get specific bids from skilled freelancers in Denmark