$$$$
{{$t($store.state.user.experience_value_in_dollars)}}
Expert
{{$t($store.state.user.experience_search_name)}}
Efficient seamstress, administrator
Gemma Blackmore ,
wareham, United Kingdom
Other titles
SUPERVISOR
HOUSKEEPING SUPERVISOR
seamstress / business owner
admin
Skills
Ordering
Housekeeping
Closing
Cash handling
Bakery
+ 4 more
Ready for
Smaller project
Larger project
Ongoing relation / part-time
Full time contractor

Available
Typically available right away
My experience
SUPERVISOR
NISA
.
Open and closing shop, stock keeping/ ordering, fresh food bakery, staff management, cash handling and managing books.
Seasonal Position on Durdle door holiday park
Management
HOUSKEEPING SUPERVISOR
LULWORTH ESTATE
.
Managing a team of 10, assisting housekeeping manager, organizing and running of busy intake days, stock keeping and ordering, laundry management and general day to day duties.
Management, Manager
My education
2001 - 2010
OPEN UNIVERSITY
N/a, VOLUNTEER EXPERIENCE OR LEADERSHIP (Minor in Business)
---
---
Gemmas reviews
Gemma has not received any reviews on Worksome.

Contact Gemma Blackmore
Worksome removes the expensive intermediaries and gives you direct contact with relevant talents.
Create a login and get the opportunity to write to Gemma directly in Worksome.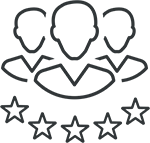 31200+ qualified freelancers
are ready to help you
Tell us what you need help with
and get specific bids from skilled freelancers in Denmark