$$$$
{{$t($store.state.user.experience_value_in_dollars)}}
Expert
{{$t($store.state.user.experience_search_name)}}
Capit Apps Limited
Murat Alagöz ,
London, United Kingdom
Other titles
flutter developer
ios developer
android developer
artificial intelligence
webdeveloper
Skills
Android
Firebase
IOS
Application development
Swift
+ 3 more
Links for more
Once you have created a company account and a job, you can access the profiles links.
Industries
Textiles
Real Estate
IT
Computer Software & Apps
Ready for
Smaller project
Larger project
Ongoing relation / part-time
Full time contractor

Available
Typically available right away
My experience
FREELANCE MOBILE APPLICATION DEVELOPMENT
unknown
.
Developed the mobile game "Köprücü Kami"l for IOS
Developed mobile application "Virtual Tarot" for both IOS and android.
Android, IOS, Mobile Application, Development
CO-OWNER
İSTAN YAPI VE GAYRİMENKUL SANAYI LTD STI
.
As the co-owner of the company, I have built our website. I made
contacts with foreign customers.
Website
OWNER
OBBO TEKSTIL
.
As the owner of Obbo Tekstil, I created a textile brand named OBBO. I managed both the production and the export to different foreign countries.
Production
My education
? - 2008
Haliç University
Bachelors, Business Administration
---
---
Murats reviews
Murat has not received any reviews on Worksome.

Contact Murat Alagöz
Worksome removes the expensive intermediaries and gives you direct contact with relevant talents.
Create a login and get the opportunity to write to Murat directly in Worksome.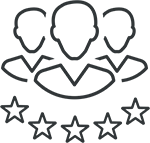 31200+ qualified freelancers
are ready to help you
Tell us what you need help with
and get specific bids from skilled freelancers in Denmark